Motive
A Chinese wireless transmitter insists on long range 4km.
Summary
So Enoki tried its range test outdoors. It was similar to Cacazi that Enoki tested before. But the trial condition was not enough, because transmitter power supply voltage was dropping down. However, another description refers to range 300m. 300m may be true.
経緯目的
4km レンジの中国製トランスミッタを試験する。
要約
以前試験した Cacazi と同様のレンジしか得られなかった。別の説明ではレンジ 300m とあるから,これが本当なのだろう。
4km transmitter range test 2020-04-14
Specifications 仕様
Transmitter Module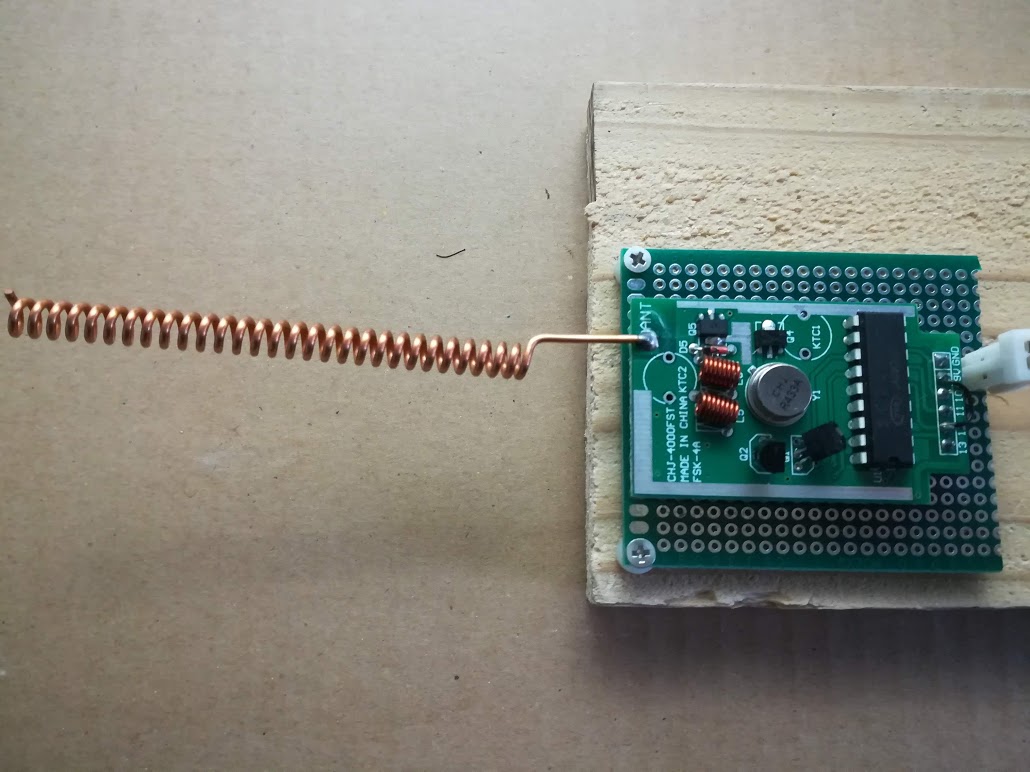 Working Voltage :DC9V (
DC9V Battery
)
Working Frequency :315/433.92MHZ
Optional by leaving massage
Working Current :180mA
Transmitting Rate :<10Kbps
Working Temperature : -10'c~+70'c
Pin:13 12 11 10 9V GND
Size :49×31×8mm
Code :Fixed Code PT2262 IC Chip
Transmitting Distance:
4000m
Receiver Module
DC5V 4CH super-heterodyne Decoding Receiver Module 315/433.92MHZ
Here is fixed code Receiver Module, we have Momentary or Latched in Stock, after placing the order, please leave us
the massage you need Momentary or Latched, or we will ship as default "Momentary "
It is not a common Receiver Module, It is a super-heterodyne Receiver Module with stronger anti- interference ability and High sensitivity so that it can be used in the complex environment. The Receiver Module use USA MICRF211 Super-heterodyne Chip.
Working Voltage: DC5V
Channel: 4CH
Sensitivity: - 113 db
Type: Decoding
Size: 40*24mm (L*W)
Code: Fixed Code. Momentary Toggle Latched Non-adjustable
Working Current: ≤7mA (5.0V DC)
Modulation Mode: ASK
Output Data: High Level Signal TTL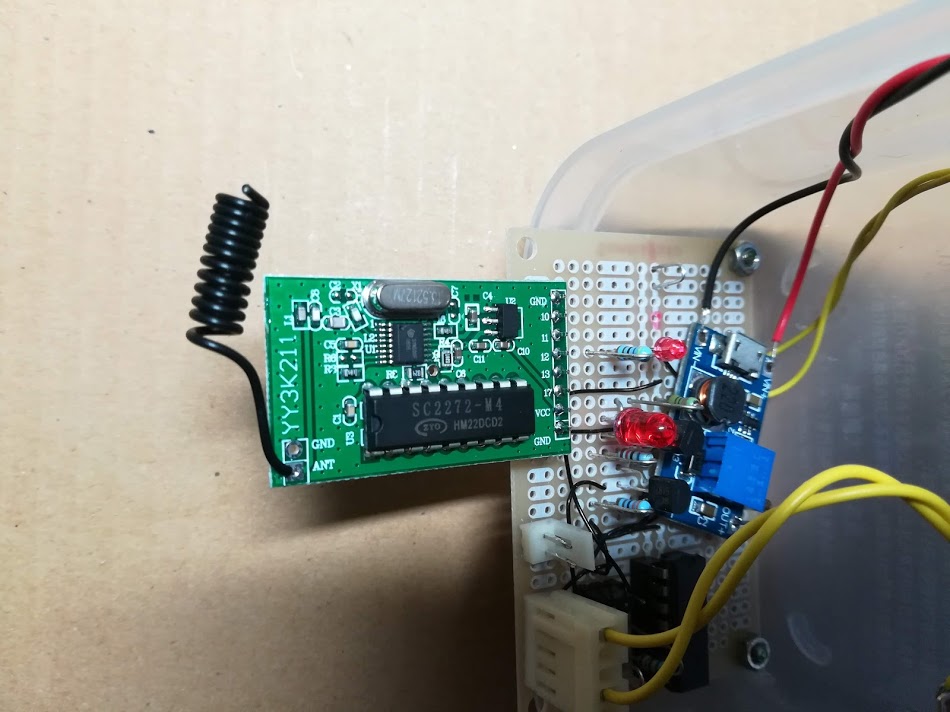 Assembly 実装
Enoki bought the pair of momentary mode at AliExpress.
Standby & working current
Enoki confirmed that the transmitter and receiver standby current were 0.8uA at 9V and 7.22 mA at 5V at first. They were measured by DMM PC510.
The working transmitter and receiver current were 80 and 7.25 mA by DMM PC510.
Wired board
The both boards have no holes to fix. Enoki assembled the transmitter on base board as shown in Photo1.
Transmitter base board
Referring to PT2262 data sheet, Enoki connected 9V with terminal 12.
Receiver base board
Enoki rebuilt the receiver board that Enoki reported it in "Qiachip wireless transmitter review", as shown in Photo2. Enoki also assembled step up DC-DC converter. The converter works at 2V minimum.
UNO photo coupler board
Enoki put photo coupler circuit on the UNO this time. Enoki confirmed the transmitter on time 990ms (M250ms) and the interval 29.80s (M5s) by DSO.
Power supply
UNO has voltage regulator, while 6 NiMH batteries get 7.2V in series. The the transmitter dissipates 180 mA. One allows to use a step up DC-DC converter for 4 batteries, but they will dissipate
more than 270 mA simply. AA battery doesn't afford the marginal capacity.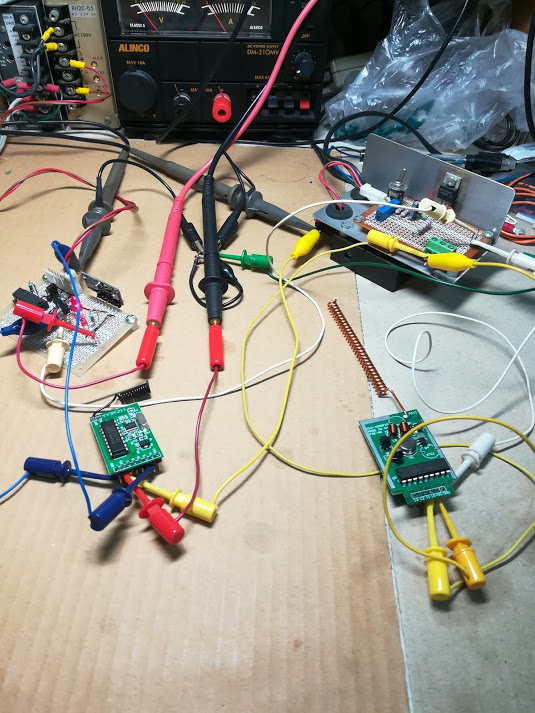 So Enoki used its usual tiny AC/DC power supply scratch.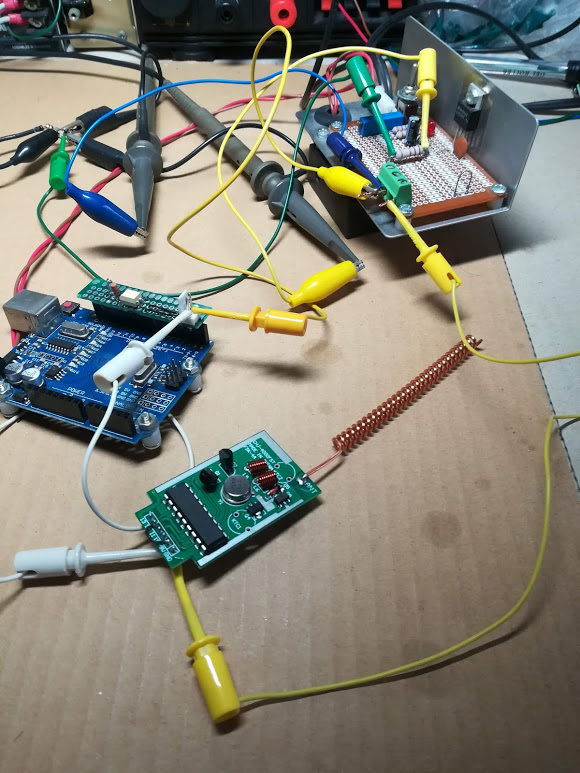 Installation and result
Transmitter installation
Enoki drilled two 7mm diameter holes in 45x9x1 cm wooden plate for M5 bolts. The transmitter base board was fixed on the plate by two 2.1mm wood screws through spacers.
The plastic box contained UNO, battery holder and power supply. It hung by hook. The plate was fixed on 1.8m long steel pipe between brackets through M5 bolts.
The assembly stands as shown in photo5. The antenna of the transmitter stands 2.1m high.
Receiver assembly
The plastic box contains the receiver and
D battery holder as shown in Photo 6. They were fixed through two M3 screws each.
Method
Enoki walked around with the receiver in his hand. The LED lights and holds when the transmitter emits.
All the NiMH batteries were deteriorated and the 2 Mn D batteries were reused.
Result
Photo 7 to 12 shows the limit of each direction. The walking date and time was 2020-04-10 15:05 to 17:25. Table1 shows the range of 4km transmitter. The range was measured by Google Photo GPS and Google Map.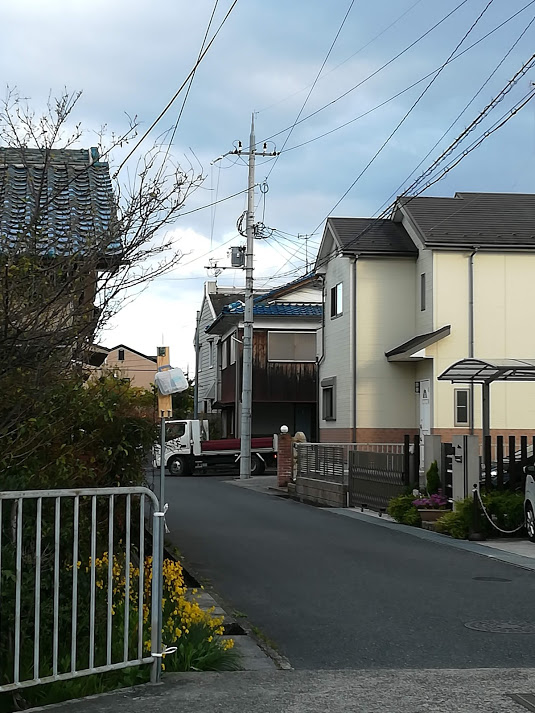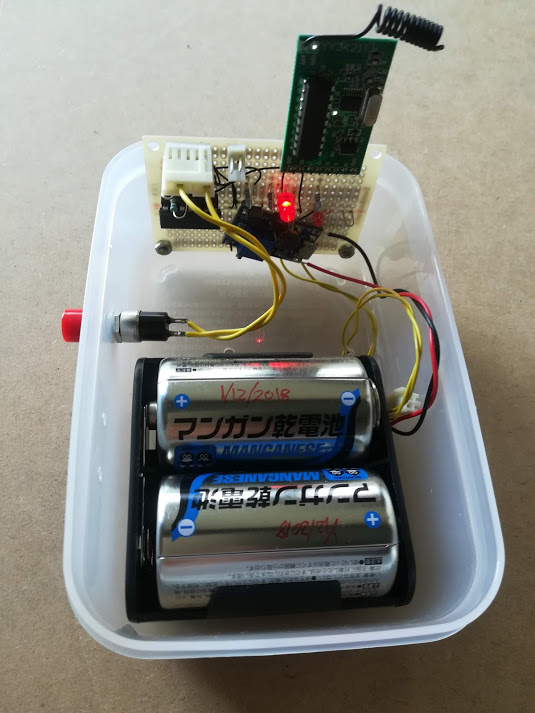 Evaluation and conclusion
Comparing with Cacazi door bell, the 4km transmitter range is bigger a little. Figure 1 is the same map that Enoki made the previous report.
Peak consumption current
The 4km transmitter range is 4km nominal. The tiny regulator dropped 1.3V, when the photo coupler turns on. Does the 4km transmitter eat more power?
The specifications describe 180 mA working current.
Although Enoki had confirmed that the tiny AC/DC regulator generated 200 mA before the test, Enoki measured its peak consumption current again as shown in Photo14 and Photo15.
Enoki connected 1Ω current detecting resistor between power and the transmitter GND.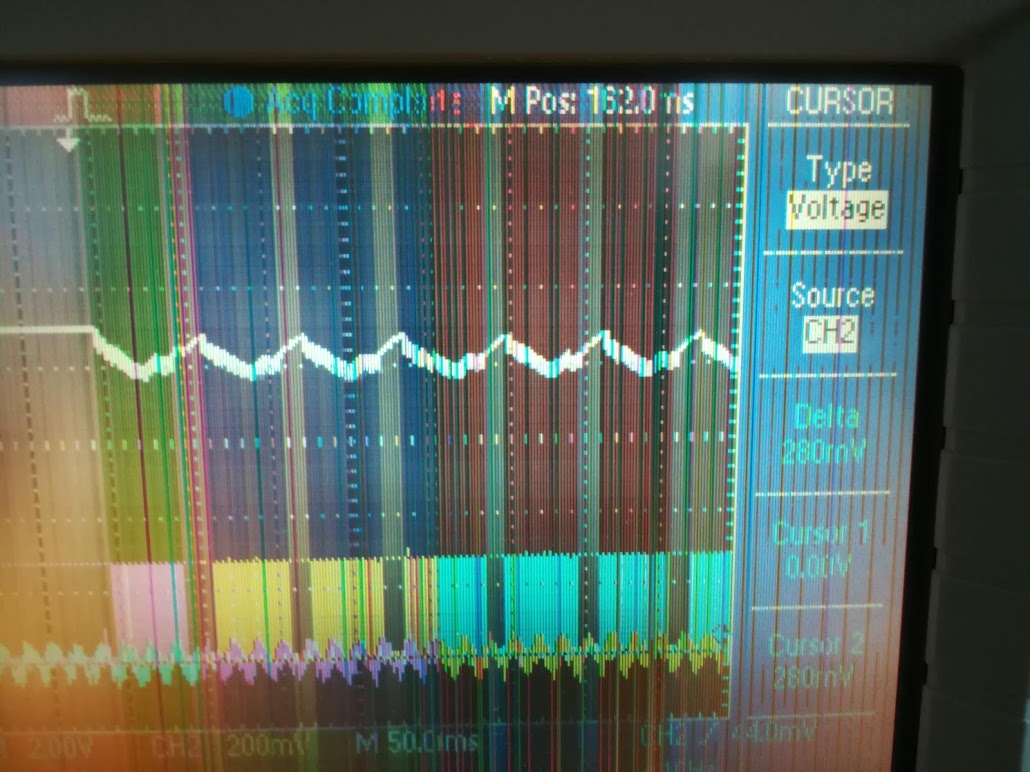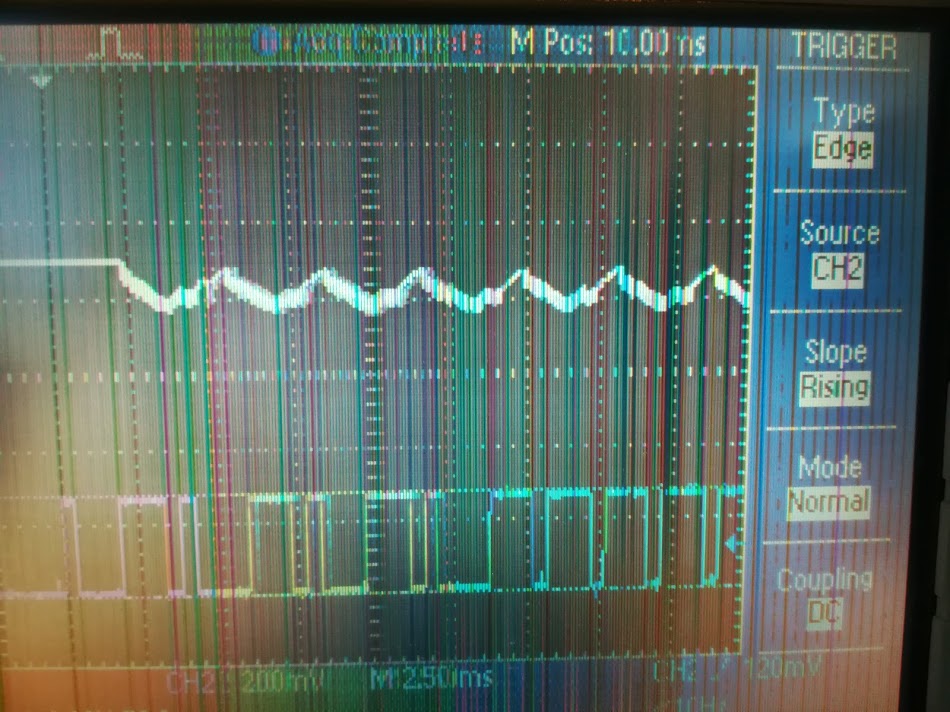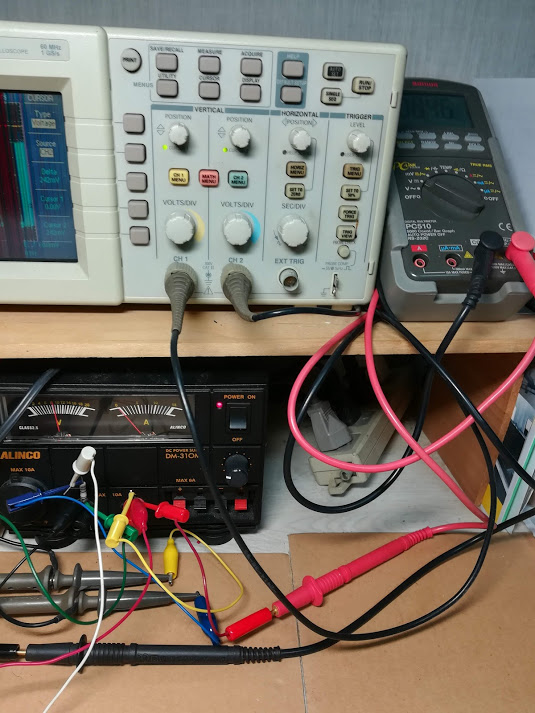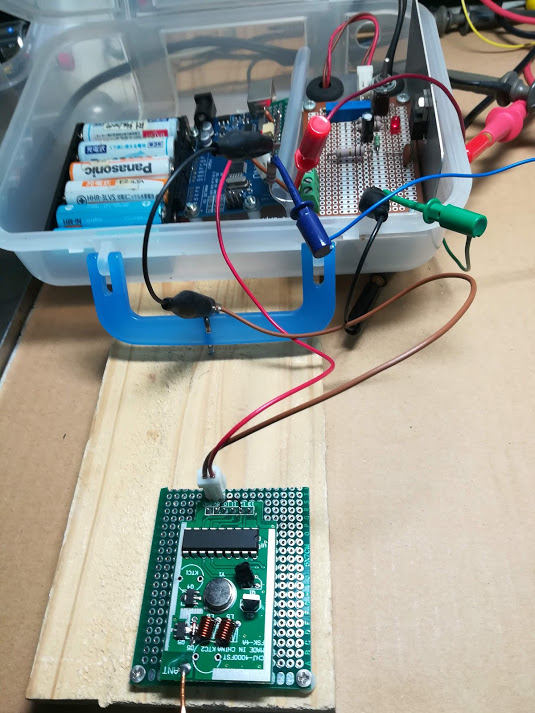 Enoki measured peak current and supply voltage by DSO and DMM PC510.
The transmitter turns on/off power current as shown in Photo16.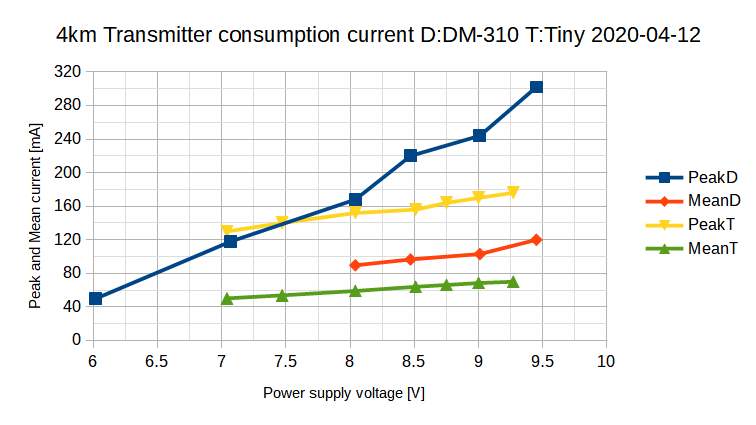 Figure 2 shows the measured peak and mean current result. The tiny power supply fed constant peak
130 mA at 7.5V as shown in Photo18, but the peak decreased in 50ms at 9V as shown in Photo17. While 10A power supply DM-310 fed 440 mA.
Table 1 4km transmitter range [m]
4km
20-04-10
Cacazi
19-03-03
Revex indoor
19-03-08
Revex
19-03-12
TWE indoor
17-07-06
G 274
A 261
U 72
J 67
-
Z 264
B 250
T 71
K 67
-
X 193
C 193
V 55
M 89
R 17
Y 242
D 202
-
-
-
H 212
E 162
S 54
L 141
-
W 202
F 124
-
-
-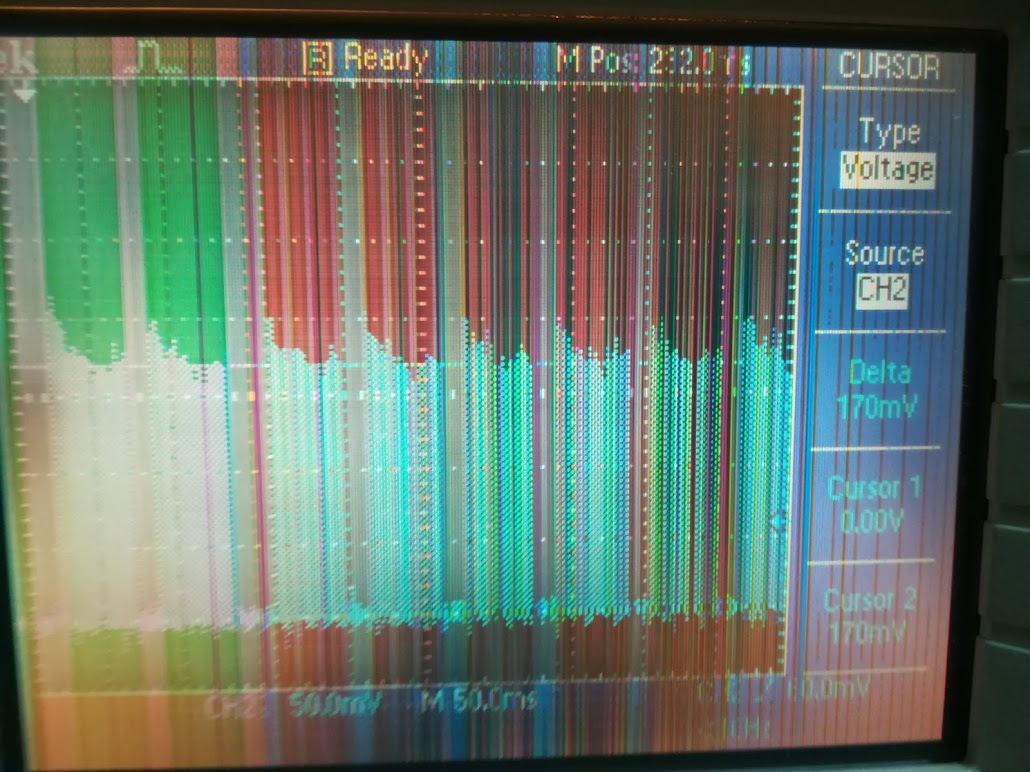 So the transmitter doesn't limit power current, Enoki thinks.
In general, radiation power decreases proportional square of distance inverse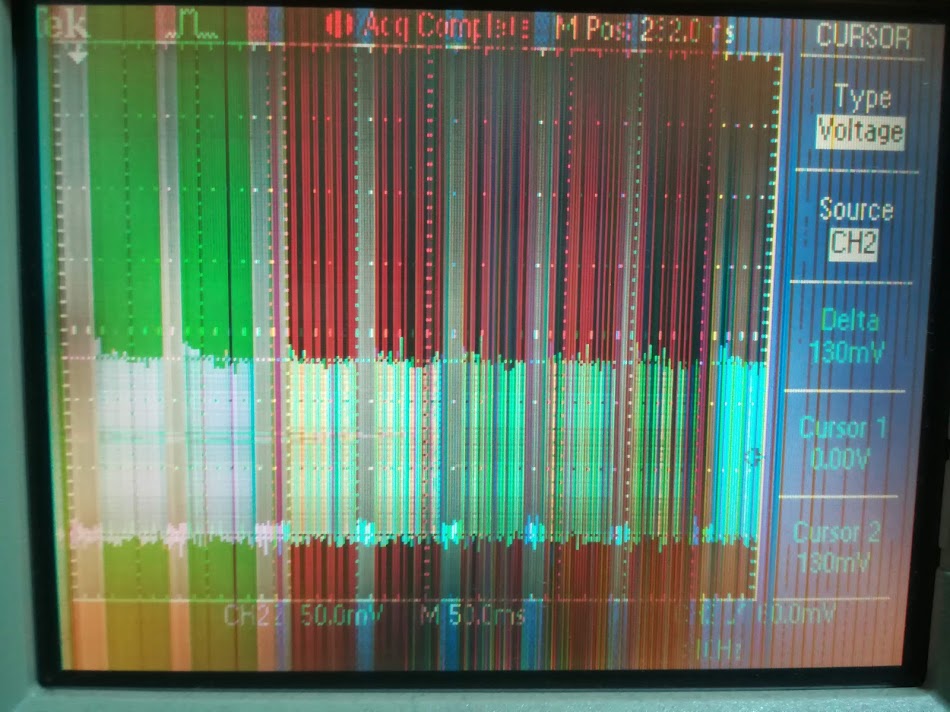 in space. Even if 170 mA increase to 180 mA, The range wont increase sharp.
Conclusion
AA dry battery hardly feeds more than
200 mA, because internal resistance increases for much current. And 6 AA battery holder is expensive.
The Chinese seller at AliExpress where Enoki purchased has referred to the range in Japanese description in the end. The range: 300 - 4000m. If you met conflicted description, select worse description in Chinese store. In this case Enoki learned three times.