Motive
Enoki found that Qiachip wireless transmitter works at 3.3V.
Summary
The Qiachip cannot transmit at the range of 15m, but it works across a glass window. it will be able to monitor water tank level outside of window or veranda.
経緯目的
Qiachip のワイヤレストランスミッタが 3.3V で動作すると知った。
要約
伝送距離 15m は得られなかったけれども,窓もしくはベランダ越しに水位のモニタが可能だろう。
Specifications
Brand Name: QIACHIP
Use: Electric Door
Use: Automated curtains
Use: Lighting
Use: Switch
Use: Universal
Wireless Communication: RF
Model Number: RX480-E4 Receiver & TX118SA-4 Transmitter EV1527 Encoding
Channel: 4
Support APP: No

Package: No
Frequency: 433 MHz
Function: superheterodyne 433 mhz receiver & transmitting
Apply: 433mhz remote control
Certification: CE,CCC,RoHS
Warranty: 3 months
Working Frequency: RF 433Mhz 433.92Mhz
RF Working Mode: Superheterodyne
Match Code: EV 1527 Learning Code
Modulation: ASK

Emission Current of Transmitter: 10mA
Quiescent Current of Transmitter: less than 3uA
Transmitting Power of Transmitter: 11dbm
Rate of fire of Transmitter: maximum 10KB/s
Transmit deviation of Transmitter: +/- 7. 5KHZ / narrow-band emission
Transmit Distance of Transmitter: 30-100m
Size of Transmitter: 24mm * 18mm * 1mm

Transmitter module input: 3.0V-24V
Working Mode of Receiver: Inching (Momentary), Self-Lock (Toggle), Interlocked
Input Voltage of Receiver: DC 3.3V-5V
Quiescent Current of Receiver: <=5mA
Receiving Sensitivity of Receiver: -108dBm
Working Temperature of Receiver: -25 ~ 75
Receive Distance of Receiver: 15-100m (open space)
Size of Receiver: 28*12.3*1 mm
Method and measurement
Method
Enoki wired the transmitter with DC-DC converter on the cut Akizuki's universal board (48x47mm), as shown in Photo1.
Enoki also wired the receiver on Sunhayato's universal board ICB-86G.
Transmitter current measurement
The transmitter standby current is constant 2.1uA, when supply voltage varies 3.50 to 6.02 V except for 2.3uA (3.32V).
Receiver current measurement
The receiver dissipates 3.94 mA at 5V.
And the consumption current increases to 6.94 mA, when it receives the transmitter signal.
The both currents were measured by Enoki's scratch power supply and DMM PC510.
Range confirmation
The receiver power was supplied with a booster, as shown in Photo2. The booster steps up 3V D (R20) batteries to 5V.
Enoki carried it in his hand and walked in and out house. The LED turns off, when the receiver cannot pick up the radio wave. the transmitter emitted on the steel desk.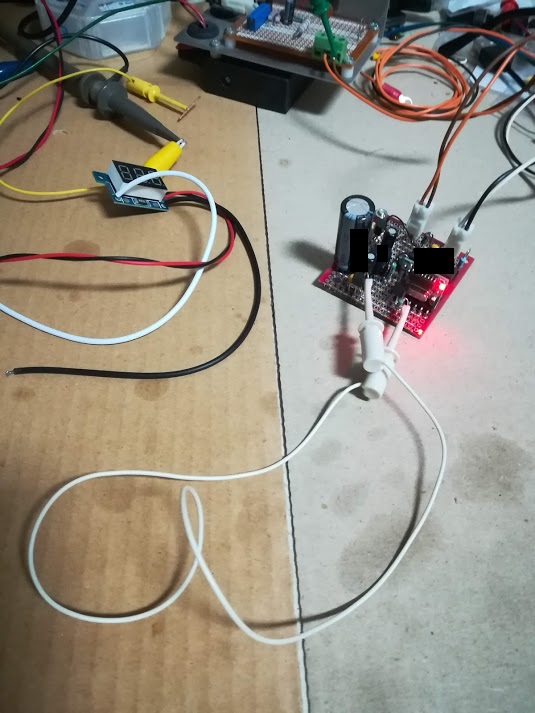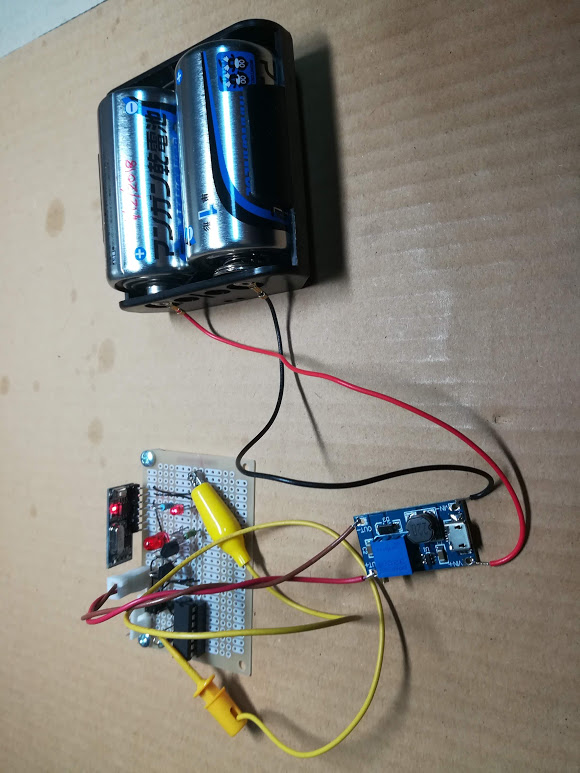 Result and conclusion
Result
Enoki's water level sensor has a photo coupler which turns on a wireless door bell. The cacazi and Revex door bell informed well.
Conclusion
The Qiachip hardley transmits within Japanese wooden house. It can use in room or across glass window only.
You may monitor water level of tank for plants or something.
Although Qiachip declares that it works at 3V, the actual working consumption current doesn't saturate below 3.5V as shown in Figure1. The range may increase at 5V.