Background
Puppy Linux recognized Windows shared files easily, otherwise Puppy file was troubled with being shared by Windows.
Summary
SSM (Samba Simple Management) green button status is ON, when the button color is green. And Enoki tried some desktop tools.
SSM and Pnethood shares Puppy files with Windows 2021-09-06
Pnethood
BionicPup32 (Puppy Linux 32-bit) desktop has file sharing tool Pnethood. You can open it, when clicking Applications > Network > Pnethood.
Pnethood detected all the PCs in LAN as shown in the tab of Figure1, and showed directories in the below black masked area. If you click 'connect', the left show button will be active. Clicking the button, Pnethood showed shared files list.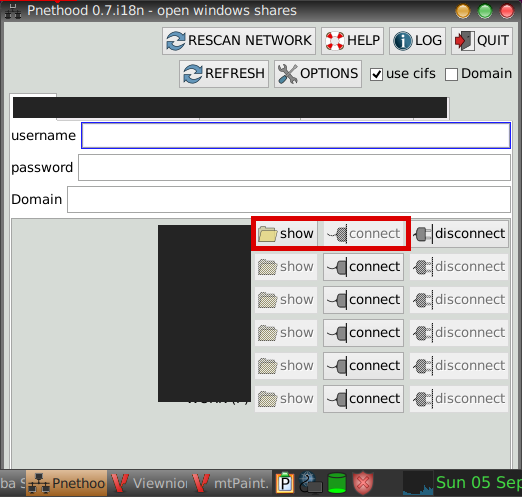 Samba Simple Management (SMM)
Puppy files can't be shared by Pnethood. SMM shares Puppy file with Windows.
SSM opens selecting Applications > Network > Samba Simple Management.
Enoki was troubled with SSM for a few days.
1) Enoki doesn't know how Linux permission and property are different.
2) Enoki is unfamiliar with Puppy File Manger.
3) Enoki misunderstood SMM toggle button. SMM is ON, when the button is green as shown in Figure2.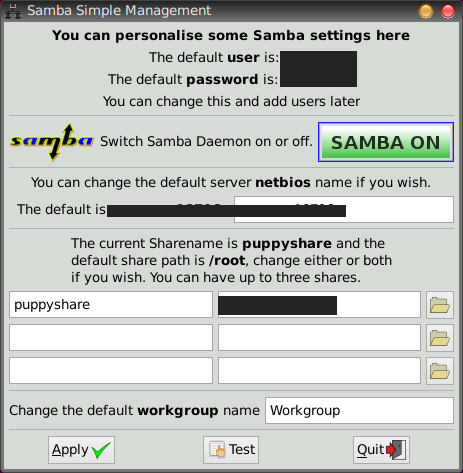 But industrial devices or public buildings has been ON in Japan yet, when LED is red.
If you click on the right folder icon, you can search and assign a folder.
Enoki assigned the File-sharing folder in home directory as shown in Figure3. It has already existed.

Take a Shot!
Desktop has a screen shot application like Windows Snipping Tool which is named 'Take a Shot!'.
Selecting Applications > Graphic > Take a Shot!, it opened. But it couldn't take itself.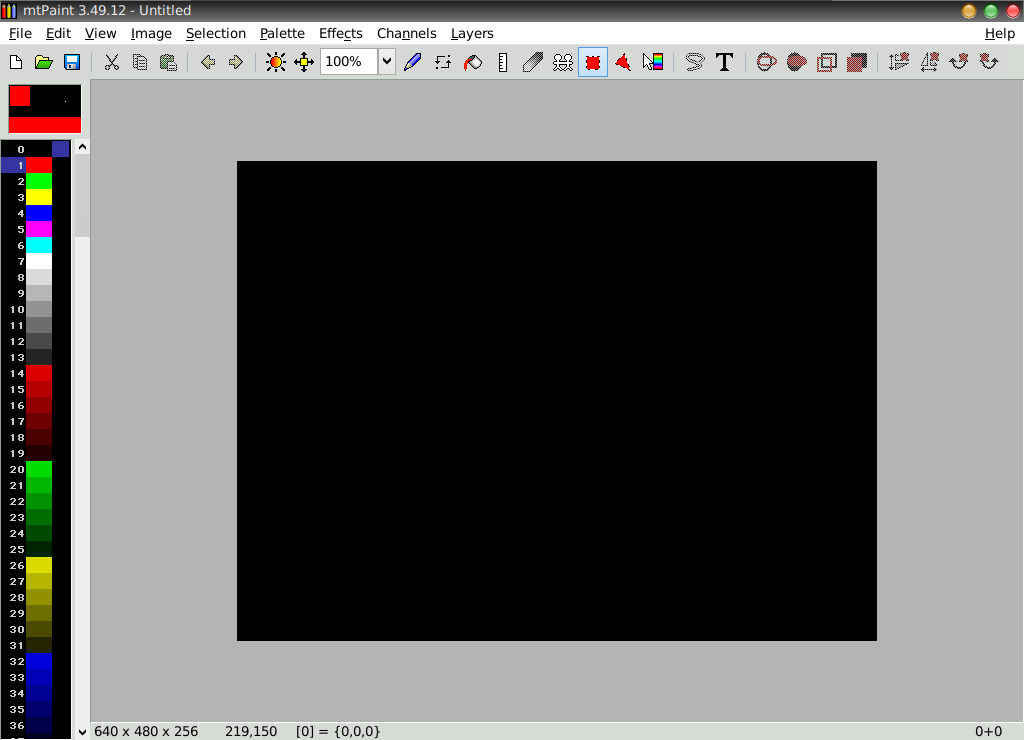 mtPaint
Desktop has a graphic tool like Windows Paint which is named mtPaint as shown in Figure4.
Enoki tried it to draw black masks in Figure2 and Figure3.
Note
Enoki found that 'home' directory is Windows C:\ by File Manager, because Enoki installed Puppy in the root of C drive.
Conclusion
Desktop
BionicPup32 desktop is simple and looks like Windows xp. Enoki is in favor of it except File Manager.
Enoki had not been able to remember its operation at all, though Enoki installed Puppy 7 years ago.
For target machine
Enoki will develope a wireless IoT application.
The old 1GB Windows xp revived as the latest Linux and runs side by side Windows 10 now. Another 384 MB Windows xp runs in 2F apart.