Motive
Enoki introduces how to wire wireless door bells to transform into sensor from mechanical switch.
Summary
Enoki introduced how to wire Cacazi and Revex door bell for wireless level sensor.
経緯目的
ワイヤレスチャイムを水位センサ用にするための配線方法の紹介
要約
Cacazi と Revex のワイヤレスチャイムを水位センサに応用するための配線方法を紹介した。
How to wire door bell into sensor 2020-02-29
Principle
Wireless door bell emits 315 MHz frequency, when one presses transmitter's button. So the bell rings, if the mechanical switch can turn on electrically.
Enoki reported "Wireless door bell range test by Arduino" before.
Photo coupler
Enoki's water level sensor is equipped with photo coupler to turn on wireless door bell switch.
Disassemble door bell
In case of Cacazi, The PWB (Printed Wiring Board) Assy appears when you open the back cover.
If you release the 4 latches by small minus screw driver and turn over the board as shown in Photo1, you will see the tact switch on the outside.
Confirm polarity
Photo coupler output has polarity,
so the coupler breaks down when you load reverse voltage.
Load power by power supply as shown in Photo2. you will find the polarity arrangement, if you measure voltage by DMM or something. Enoki has used DSO.
If you don't have any power supply, Refer the soldering points in the photos. The white wire is positive. And the gray one is GND.
Soldering wire
In case of Cacazi, thick wire may unfit because of narrow gap between the board the rubber membrane.
So, Enoki soldered AWG 28 wires at first and AWG 24.
Open a hole
Open a hole for wires. Enoki drilled 3mm diameter bit.
Working photos
Enoki uploads some photos while doing the work.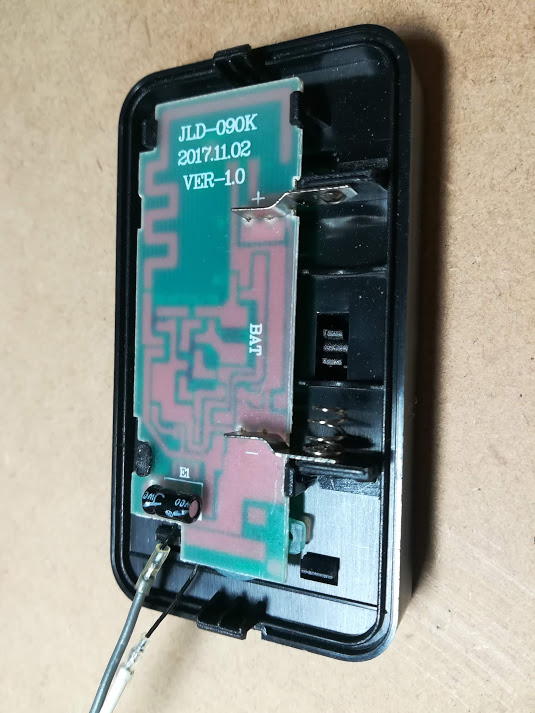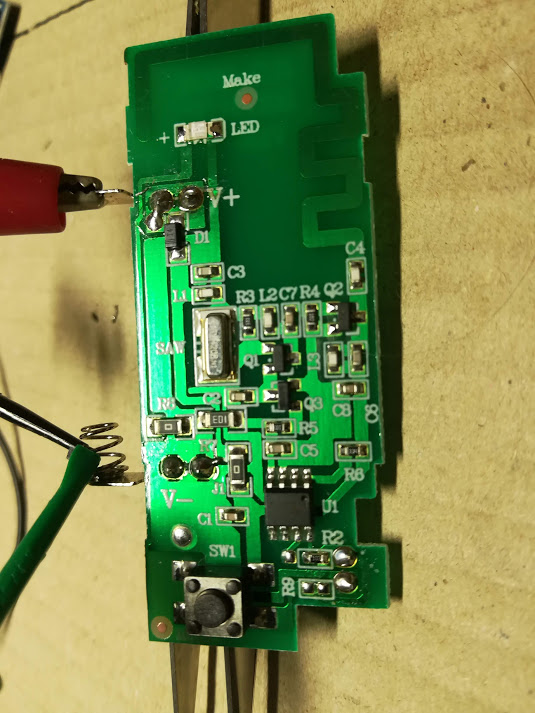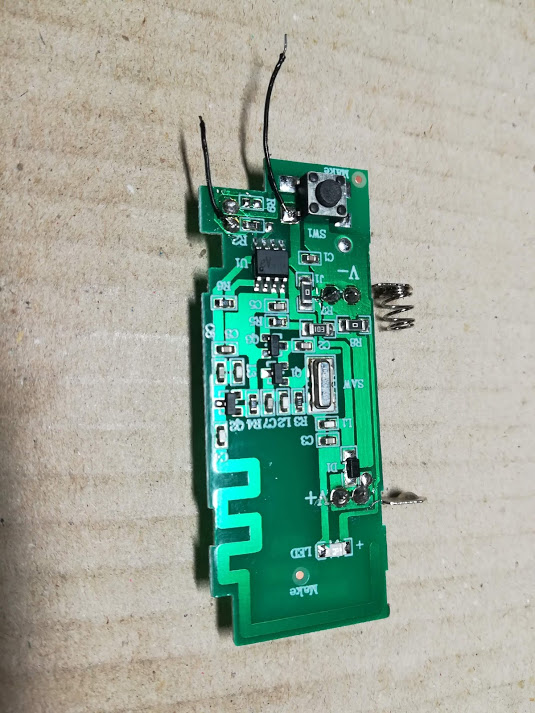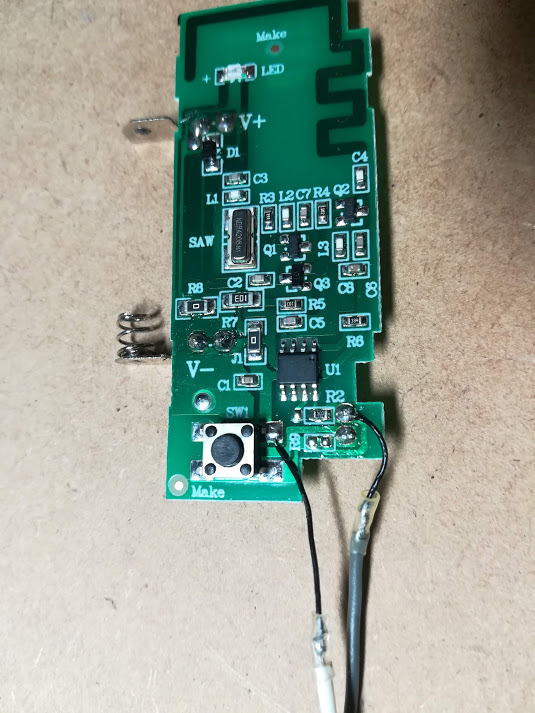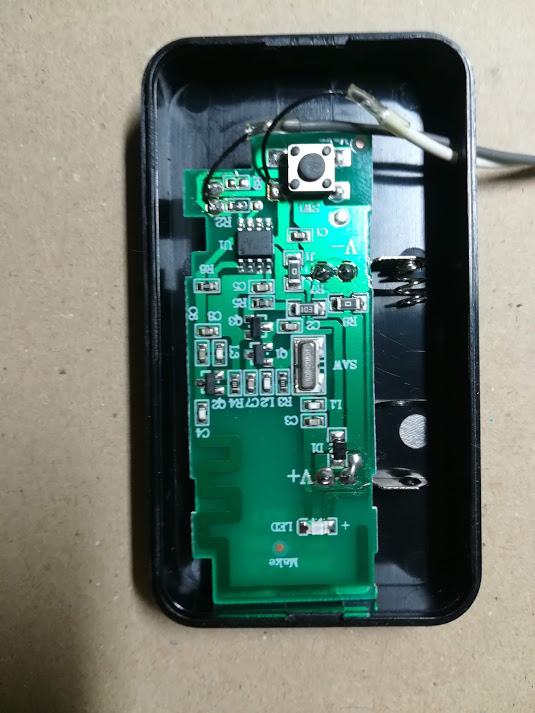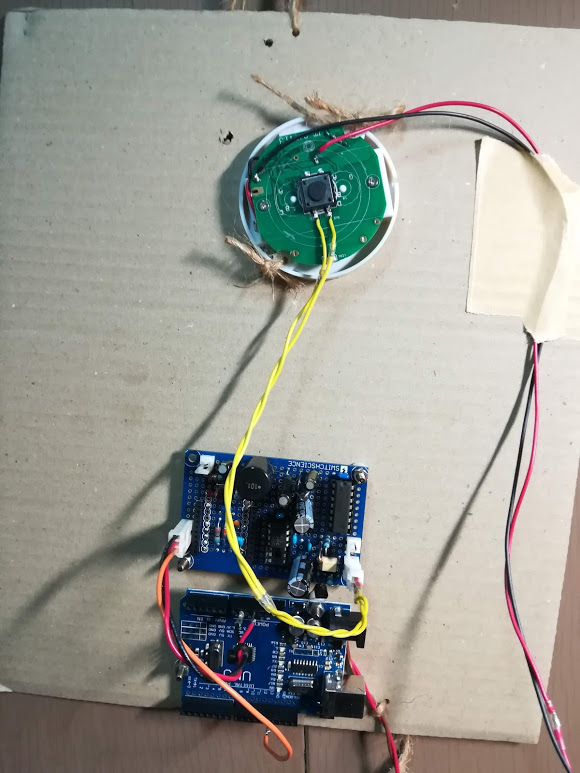 Method and tool
Material and tool
Enoki always uses AWG 28 wire and 20W soldering iron.
Power supply is Alinco DM-310MV. DSO is Tektronix TDS2002.
Power supply
If you don't have DC power supply, I recommend buy a 12V switching power supply to test Cacazi door bell.
And if you make a simple regulator, voltage variable power supply is available.
The result
The wiring worked well.
Conclusion
Thin wire
Enoki always uses wrapping AWG 28 wire, but the wire 100 m is expensive.
If you remove the rubber membrane for pressing the button, you can use thick wire. But the transmitter may not emit radio wave instead of removing, when you press the button for a test.
Revex
In case of Revex, the soldering and wiring is more simple than Cacazi.
But Revex range is 1/3 of Cacazi and expensive.
The merit of Revex is battery. It works by 2 AAA batteries.
© enoki.net 2020 February 29