Reports
Filter of a used PET bottle
My family kept sea anemones when my son was a little boy. I bought a water pump made in Italy. The specifications are as follows. I tried filtering water in an aquarium tank. I used a 250mL PET bottle as a filtering container. I made an inlet near the bottom of the bottle.I packed some plastic wool. The flow disturbs water at the bottom of the tank.
Tbl.1 Pump specications

| | |
| --- | --- |
| Name (Type) | EDENIC MIN (S-250) |
| Voltage | AC100V 50/60Hz |
| Comsumption power | 5.5W/50Hz, 4W/60Hz |
| MAX discharge rate | 220L/hr(50Hz), 240L(60Hz) |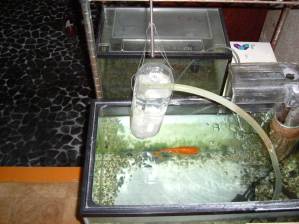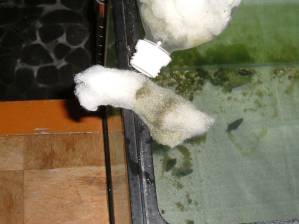 The photo "Hanged PET bottle" shows that the water flow pump works. The photo "Wool at the bottle of neck" shows working filter. Mess concentrated the neck because I packed the wool tight a little.
Biwa Lake JAPAN aboutMe
© 2008-2011 Enoki